The twenty-first century is a life-changing era for the world, innovative technologies; it has made human life easier and more enjoyable. Unlike our the past time, we have more opportunities and ways to enjoy our lives and experience things others never did. Some extraordinary things like skydiving, paragliding, scuba diving, etc., are on top of the list.
However, experiencing these outstanding kinds of stuff without shooting, videotaping, or capturing these incredible moments will only leave you with some empty memories. Therefore, to have a record of your experience to show your friends and post on your social media, you must have a camera. And if you are a blogger or professional, capturing these moments with a quality camera will be vital for you, especially during scuba diving.
But how to get the best camera for this activity? Don't worry because, in this article, we will be providing some top cameras for scuba diving rated by individuals like you, which can help you capture your mesmerizing experience. But first, let's learn what major qualities should scuba diving cameras possess.
Top Features of Best Scuba Diving Cameras
Easy to Use
Keep in mind, easy to use camera means beautifully captured moments. Take it this way, imagine you have set up everything for your scuba diving, it is your first experience, and you want to capture every moment. Still, when you jump and start your camera to videotape everything, the setting takes time, and you miss all the major moments.
Therefore, the scuba diving camera should always be easy to operate.
Quality and Result
What's the point of capturing stills and videos if you end up having a blur and inferior images? One of the prime things a scuba diving camera should provide is excellent quality and result.
Lightweight and Portable
The scuba diving cameras must have lightweight and be portable. A heavy camera would be hard to carry, especially during diving.
Best Scuba Diving Cameras for Beginners
SeaLife DC2000
SeaLife DC2000 is one of the most sophisticated cameras for beginners. It promises high quality and provides you the opportunity to capture your wonderful scuba diving experience with its lightweight camera.
Features of SeaLife DC2000
The SeaLife DC2000 can capture RAW files with its 20-megapixel sensor of Sony 1-inch back-lit.
It contains a manual control system and processing of the pro-level.
It offers excellent clarity through its 1080p shooting capacity at 60 frames per second.
It has been rated waterproof to 60ft without its case, while with the proper housing, it has a 200ft waterproof rating.
It is backed up by wet lenses and strobes' extensive accessory library.
It has a fixed 31mm-equivalent built-in lens with a generous f/1.8 aperture.
Pros of SeaLife DC2000
High quality
Solid image
Lightweight: 1.54 lbs (700 g)
Contains lineup of large accessory
Extremely tough build
Without case, waterproof up to 60ft
Capable of shooting a 1080p video
Cons of SeaLife DC2000
Lack of zooming ability
Poor performance at higher ISOs
Unresponsive physical buttons
Fixed lens
Hard to navigate and confusing camera menus
Strange controls
Olympus Tough TG-5
The excellent image quality, impressive features, affordable price, and rugged building of Olympus Tough TG-5 makes it one of the top scuba diving cameras for beginners.
Features of Olympus Tough GT-5
The Olympus Tough TG-5 is waterproof, shockproof, and freeze-proof up to 50ft.
It has a minor 1/2.3" sensor, which can capture amazing photos.
It has a 25-100 mm-equivalent f/2-4.9 built-in lens with fog-resistant ability.
It also has a built-in macro mode.
The Olympus Tough TG-5 can record up to 4k at 30 fps, while at 120 fps, it can record 1080p videos.
Pros of Olympus Tough TG-5
Capable of shooting super close shots
Rugged build
High focus
Excellent shooting features
Cons of Olympus Tough TG-5
Hard to shoot in dim situations
Images degrade with increasing ISO
Poor usability due to confusing menus
Not fully manual
Best Compact Cameras for Scuba Diving
Canon Elph 130 IS
The Canon Elph 130 IS high quality and the most renowned compact camera. It has a stylish design and performs well in both videos and stills.
Features of Canon Elph 130 IS
The Canon Elph 130 IS one of the thinnest cameras.
It has an optical image stabilizer, an 8x zoom, 16MP CMOS sensor, and a 28mm wide-angle lens.
It can record 720p HD video.
It features Wi-Fi connectivity for immediately sharing pictures and videos.
DIGIC 4 Image Processor and 16MP CCD sensor provide a high-quality image.
Pros of Canon Elph 130 IS
Lightweight
Thin
Affordable price
Cons of Canon Elph 130 IS
Lower quality of the image
Not resistant
Panasonic LX100
With so many offerings for compact scuba diving cameras, the Panasonic LX100 is on top of the list. It has excellent features, great performance, high image quality, and a reasonable price.
Features of Panasonic LX100
The Panasonic LX100 has a massive Micro Four Thirds sensor. Its great sensor provides high image quality and excellent performance even in dim light.
Its sharp and fast Leica lens further increases its performance in dim situations.
It has macro shots and wide-angle.
It has great controls and offers higher manual customization.
It offers fully adjustable exposure and accurate white balance metering.
It is capable of shooting 11 fps burst and six fps with autofocus.
Its autofocus function works great regardless of fps.
The Panasonic LX100 also has a Lumix DC Vario 24-75-equivalent built-in lens.
Pros of Panasonic LX100
4k video shooting
MFT sensor
Fast autofocus
Great performance
High dim light performance
Cons of Panasonic LX100
Slower when started
Not short enough focal range at 24-75mm
Narrow zoom range
Lower Mp count
Canon Powershot G7X II
The Canon Powershot G7X II is considered one of the most compact scuba diving cameras. It has the incredible image quality and extremely easy controls.
Features of Canon Powershot G7X II
The Canon Powershot G7X II has a well-performing 1" sensor.
It has remarkable results, even in low light situations.
It has an amazing lens and offers excellent macro work and acceptable autofocus.
The Canon Powershot G7X II is extremely easy to use and has a very intuitive interface.
It also offers Manual control and RAW shooting.
Pros of Canon Powershot G7X II
An excellent and fast lens
Great sensor
Amazing low light performance
Intuitive controls
User-friendly operation
Cons of Canon Powershot G7X II
A bit soft at wider angles
Tough zoom
No EVF
The lens may require close range
No 4k video
Sony RX100 VII
The Sony RX100 VII is one of the leading names in compact cameras for scuba diving. It has image quality that's better than most of the compact cameras of the same kinds.
Features of Sony RX100 VII
It has a 1" 20.1 MP CMOS sensor, consistently fast 24-200mm lens, and 4K HD quality video.
It has exceptional image quality, a pint-sized package, and a blazing fast frame rate.
It has a high performing built-in 24-70mm f/1.8-2.8.
Pros of Sony RX100 VII
Super compact
High performance
Excellent and quality images
Cons of Sony RX100 VII
Lower autofocus in low light
Expensive
Lacks some features, including solid macro and optimal 4k shooting
Little short focal
Additional wet lens required for macro photography
Best Action Camera for Scuba Diving
GoPro HERO 6
GoPro is considered one of the top manufacturers of action cameras. It is renowned for its reliable and effective action cameras loved by all users. Its GoPro HERO 6 is exceptional in itself. Its excellent quality, features, and reasonable price makes it the best of its kind.
Features of GoPro HERO 6
Unlike the GoPro HERO 5, HERO 6 has better optical quality.
It can record 4k videos at a fabulous 60 fps giving its users amazing pictures and videos.
It has richer colors and dynamic range, which makes it compatible with many large cameras.
It is combined with images and videos and electronic image stabilization.
The GoPro HERO 6 has an ultra-wide-angle fixed lens, and you can easily narrow it electronically.
Without housing, it is waterproof up to 30ft while with lodging up to 130ft.
It has an enhanced user interface.
The GoPro HERO 6 also has a 9.5mm-11mm built-in electronic zoom lens and 1" CMOS sensor.
It weighs only 118 grams.
Pros of GoPro HERO 6
Very small and lightweight
Able to be mounted to various surfaces
4k amazing video quality
Incredible for filming
Naked 30ft waterproof
Richer and enhanced colors
Dynamic range
Budget-friendly
Great for videos and large scenes
Enhanced user interface
Cons of GoPro HERO 6
Not suitable for macro
Restricted manual controls
Decent images
Fixed angle
Best Midrange Camera for Scuba Diving
Sony Alpha A6000
The Sony Alpha A6000 has a reputation for a stellar combination of excellent performance, accessibility, and size. It is one of the most liked cameras for scuba diving and has exceptional image quality.
Features of Sony Alpha A6000
The Sony Alpha A6000 contains an APS-C-sized sensor, which is quite impressive for such a tiny size camera.
The images captured through this camera has great sharpness, which looks amazing even at higher ISOs.
It has the size of a cellphone but slightly thicker.
It has a highly affordable price.
Settings can easily be changed through the in-camera menus.
It can capture 4k video.
It has a 24.3 Mp APS-C Sensor.
Pros of Sony Alpha A6000
Tiny and lightweight
Highly portable
Excellent performance
Easy to operate
Outstanding image quality
Not too costly
Cons of Sony Alpha A6000
Lacks various physical controls due to tiny size
May not be convenient for various photographers
Not user-friendly and appropriate working external strobes
Externals might face slight lag due to internal flash, which must be set to TTL for shooting underwater
Struggles while capturing white balance readings accurately
Expensive underwater housing
Olympus OMD EM-5 Mk. II
The Olympus is known for its excellent functionality, tough and affordable cameras, and its OM-D E-M5 Mk.II is no different. It is a complete package; that's why it is considered the best option for those who want a rugged and portable camera that can capture amazing pictures.
Features of Olympus OMG EM-5 Mk. II
The Olympus OMD EM-5 Mk.II captures impressive still images.
It has superb autofocus, 5-axis image stabilization, and shooting speed.
It can shoot still images with full stabilization of up ten fps.
It does not buffer lag or autofocus behind due to its excellent lens.
The OMD EM-5 Mk.II has a smaller Micro Four-Thirds sensor, which has 16 Mp.
It can easily record videos in 1080p at 60 fps.
It is one of the most challenging and smallest mirrorless cameras. Its rugged design makes it easier for photographers to shoot underwater and carry it in rough places safely.
Pros of Olympus OMG EM-5 Mk. II
Weather-resistant
Amazing focus
Fast processor
Rugged frame
Excellent 5-axis image stabilization
Cons of Olympus OMG EM-5 Mk. II
No 4K video recording only 1080p
The steep learning curve of menus
16 Megapixels is unsatisfactory
Nikon D7200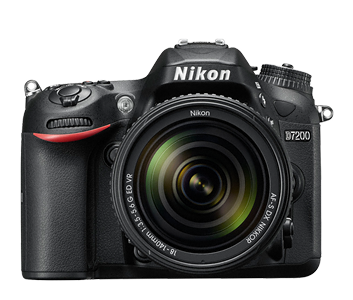 Nikon D7200 is a well-performing camera that captures amazing pictures and has excellent performance. This camera has a very easy handling process and comes at a very low price.
Features of Nikon D7200
The Nikon D7200 contains a 24.2 Mp APS-C sensor, which helps it capture sharp images.
It has an impressive dynamic range.
It can perform very well even in dim lights.
The Nikon D7200 also has an amazing autofocus function, which can incredibly snap and track targets.
It has admirable ergonomics with very responsive controls and a robust body.
Pros of Nikon D7200
Excellent image quality
Amazing performance
Great ergonomics
Captures sharp images
Good performer in dim light
Cons of Nikon D7200
Stuttering autofocus in dim light
Lack of video recording
Too big for an APS-C camera
The rear screen must be capable of swiveling
Frustrating live view and screen
Final Thoughts
There are various scuba diving cameras in the market. Some might offer higher quality and features, but they may charge a very high price. However, if you are buying a camera for the first time, then the cameras listed in this article will be the best list to choose from.
I hope you have a great scuba diving experience. Don't forget to capture every moment through your camera.